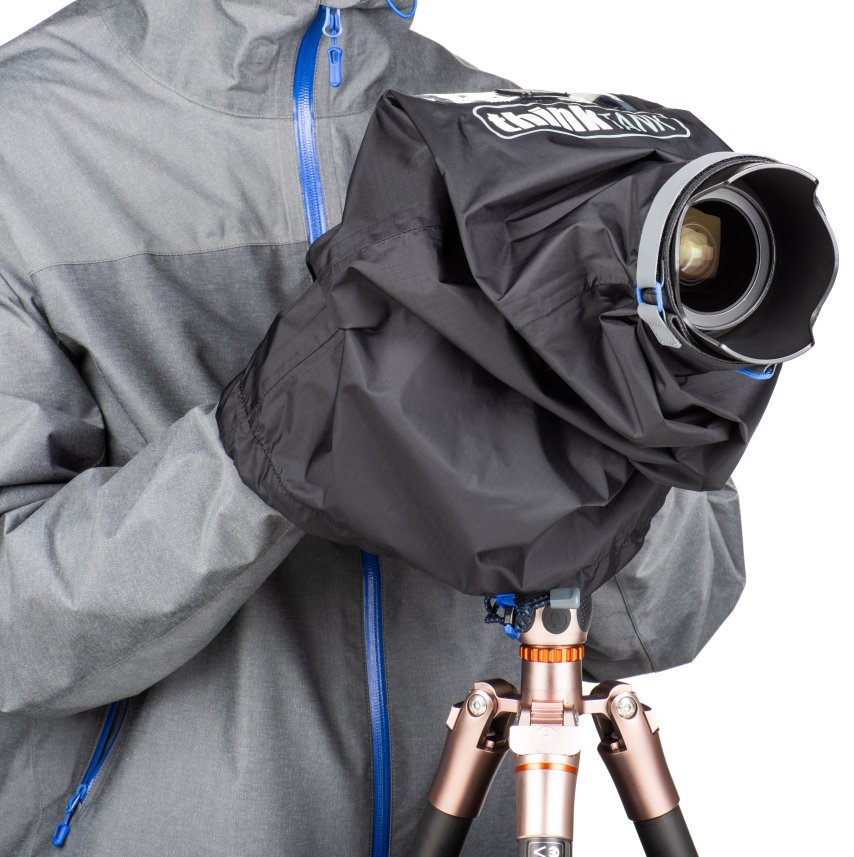 Our friends at
Think Tank Photo
have released two new concepts in camera gear protection. The
Emergency Rain Covers
, that come in two sizes, are small, lightweight, fast-deploying protective covers you can have on hand when weather conditions change swiftly and you need to protect your bodies and lenses.

The
Lens Case Duos
are protective lens sleeves that can be used both when transporting your lenses in transit and while shooting. They are available in a range of sizes to fit most DSLR and Mirrorless lenses.
Don't forget that when you use these
special URLs
you will receive free gear and free shipping on all orders over $50.
Continue reading for full press release.
Think Tank Photo Releases Emergency Camera Rain Covers for Quick Deployment in Severe Weather
Santa Rosa, Calif. – With Think Tank Photo's new Emergency Rain Covers, photographers need no longer be caught off guard by bad weather. The Emergency Rain Covers are a simple, compact solution for protecting photo gear from sudden downpours or dusty conditions. These seam-sealed rain covers can be quickly and easily deployed when outdoor conditions change.
The covers are designed to fit both DSLR and Mirrorless cameras and are available in two sizes to accommodate a range of full-frame lenses. The
Emergency Rain Cover – Small
protects a 16–35mm f/2.8, a 14–24mm f/2.8, a 24–105mm f/4, or a 24–70mm f/2.8 lens.
The Emergency Rain Cover – Medium
protects a 24–70mm f/2.8 or a 70–200mm f/2.8 lens.
"When compressed, the Emergency Rain Cover fits into a small pouch, so it's easy to bring along even if rain is a distant concern," said Think Tank's President and Lead Designer Doug Murdoch. "It takes up so little room in your bag, yet could save your gear when a sudden downpour or dust storm hits. Every photographer who shoots outdoors should keep one tucked one away in their camera bag."
Features include:
Seam-sealed for extreme protection in downpour or dusty conditions
Compresses into an included compact carrying pouch
Oversize window to view your LCD and controls
Ability to access your camera through one cinchable sleeve
Mountable to tripod or monopod
Dual viewing configurations for varying conditions
Hot-shoe mount keeps cover secured to camera during use
Non-slip, adjustable strap attaches directly to the lens hood
DWR coating for an extra layer of protection
--------------------------
Think Tank Photo's New "Lens Case Duo" Provides Enhanced Camera Lens Protection
Santa Rosa, Calif. – Being a photographer is about getting to the right location at the right time — which can often be challenging. To help photographers protect their lenses from the rigors of travel, Think Tank Photo has just released the Lens Case Duo series of six quick-access, dual-opening padded lens cases. A zippered lid and side opening is a unique feature compared to other lens cases.
With the Lens Case Duo, photographers can protect their delicate lenses while transporting them in rolling cases, backpacks or shoulder bags. These cases can then be converted into a modular system for quick access in a bag or on a belt. A shoulder strap is included for the six larger sizes: Lens Case Duo 5, Lens Case Duo 10, Lens Case Duo 15, and Lens Case Duo 20, Lens Case Duo 30, and Lens Case Duo 40. Two exterior stretch pockets provide space for a lens cap or a cleaning cloth. Soft zipper protectors and a plush lining protect sensitive and expensive lenses from scratches. All sizes come in black and green.
"The Lens Case Duo should be used by every photographer concerned about protecting their lenses, especially while in transit," said Doug Murdoch, Think Tank Photo's President and lead designer. "While our roller and backpack dividers provide ample protection, the Lens Case Duo provides just that extra protection layer that could help prevent damage in unforeseen circumstances."
GEAR CAPACITY
The Lens Case Duo 5 holds a Canon/Nikon 18-55mm f/3.5-5.6, Canon: 10-18mm f/4.5-5.6, Canon/Nikon 50mm f/1.4, Nikon 55-200mm f/4-5.6 AF-S, or Olympus: 12-40mm f/2.8, 40-150mm f/4-5.6
The Lens Case Duo 10 holds a Canon 55-250mm f/4-5.6, Sigma 8-16mm f/4.5-5.6, Tamron/Sigma 18-200mm f/3.5-6.3, or Sony 16-35mm f/4
The Lens Case Duo 15 holds a Canon/Nikon 70-300mm f/4.5-5.6, Canon/Nikon 18-200mm f/3.5-5.6, Tamron 18-400mm f/3.5-6.3, Nikon 18-300mm f/3.5-5.6, Nikon 10-24mm f/3.5-4.5, Tokina 11-16mm f/2.8, Canon/Nikon 24mm f/1.4, Canon/Nikon 35mm f/1.4, Canon/Sony 100mm f/2.8, or Nikon 105mm f/2.8
The Lens Case Duo 20 holds a Canon/Nikon/Sony 24-70mm f/2.8, Canon 24-105mm f/4, Nikon 14-24mm f/2.8, Sony 85mm f/1.4, Canon/Sony 100mm f/2.8, or Nikon 105mm f/2.8
The Lens Case Duo 30 holds a Canon 16-35mm f/2.8, Nikon 17-35mm f/2.8, or Canon 11-24mm f/4
The Lens Case Duo 40 holds a Canon/Nikon/Sony 70-200mm f/2.8, Canon/Sony 100-400mm f/4.5-5.6, or Nikon 80-400mm f/4.5-5.6
MATERIALS
Exterior:
Durable water-repellant (DWR) coating
Polyurethane coating
420D velocity nylon
Ultra Stretch front pockets
YKK RC zippers
Rubberized laminate
3-ply bonded nylon thread
Interior:
3-layer nylex liner
High-density foam
3-ply bonded nylon thread
PRODUCT SPECIFICATIONS
Lens Case Duo 5

Interior Dimensions: 3" Diameter x 4.6" Height (7.5 x 11.5 cm)
Exterior Dimensions: 3.7" Diameter x 4.9" Height (9.5 x 12.5 cm)
Weight: 0.2 lbs. (0.1 kg)
Lens Case Duo 10
Interior Dimensions: 3" Diameter x 5.7" Height (7.5 x 14.5 cm)
Exterior Dimensions: 3.7" Diameter x 6.1" Height (9.5 x 15.5 cm)
Weight: 0.2 lbs. (0.1 kg)
Lens Case Duo 15
Interior Dimensions: 3.4" Diameter x 6.7" Height (8.5 x 17 cm)
Exterior Dimensions: 4.1" Diameter x 7.1" Height (10.5 x 18 cm)
Weight: 0.2 lbs. (0.1 kg)
Lens Case Duo 20
Interior Dimensions: 4.3" Diameter x 6.5" Height (10.8 x 16.5 cm)
Exterior Dimensions: 5.0" Diameter x 6.9" Height (12.8 x 17.5 cm)
Weight: 0.3 lbs. (0.1 kg)
Lens Case Duo 30
Interior Dimensions: 4.8" Diameter x 6.8" Height (12.2 x 17.2 cm)
Exterior Dimensions: 5.6" Diameter x 7.2" Height (14.2 x 18.2 cm)
Weight: 0.3 lbs. (0.1 kg)
Lens Case Duo 40
Interior Dimensions: 4.5" Diameter x 9.9" Height (11.4 x 25 cm)
Exterior Dimensions: 5.3" Diameter x 10.2" Height (13.4 x 26 cm)
Weight: 0.4 lbs. (0.2 kg)