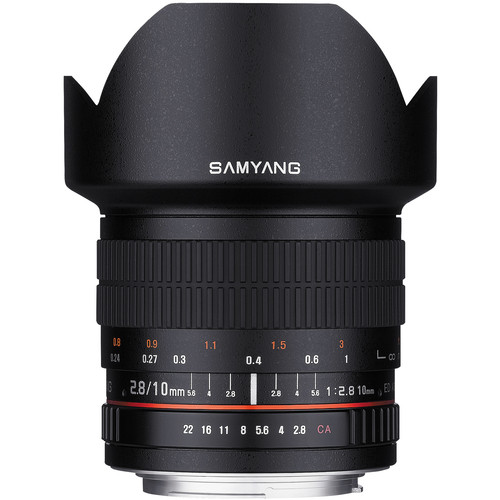 We
previously reported
that Samyang was going to announce a new lens but no one knew exactly what it would be. People speculated that it would be a 35mm lens with auto-focus but that was shot down on Samyang Asia.
The new lens that was announced by Samyang was the release of their new 10mm f/2.8 ED AS NCS CS Lens for Canon and it is now available for pre-order on
B&H Photo
with a price tag of $529.00. The lens is scheduled to ship on March 25. Since there was no mention or talk of the rumored auto-focus, we'll have to keep hoping and dreaming that one day, they will add auto-focus into their lenses.
From Samyang:
The prototype version of the Samyang 10mm f/2.8 was first presented at Photokina 2012. Since then, intensive work to improve the lens and to achieve the highest possible optical quality while reducing its footprint. The result of this work is presented today lens Samyang 10mm 1:2.8 ED AS NCS CS, which in terms of performance and capabilities can successfully compete with the best wide-angle designs available on the market.

Samyang 10mm 1:2.8 ED AS NCS CS is a great tool to photograph interiors, architecture and landscapes. It offers an exceptionally wide field of view, ranging 109.5 degree and linear imaging performance. It features a wide f/2.8 aperture for shooting in low light conditions. It can therefore be successfully used in sports photography and reportage. The optical design of the lens consists of 14 elements divided into 10 groups, which include 2 AS aspherical lenses and one ED glass with a very low coefficient of dispersion. Also, the lens has gained a permanent hood to allow for its compact dimensions and to reduce weight by almost 160 grams from the prototype stage.

Samyang 10mm 1:2.8 ED AS NCS CS is the first lens produced by Samyang Optics, which uses nano-crystalline anti-reflective coating. It is characterized by lower reflectance than the shell (U) MC, and the process of applying for a better fit to the structure of the lens surface. The benefits of using nano-crystalline coatings are: much better light transmission, greater resistance to glare and higher contrast, which positively affects the optical resolution of the lens.
Product Highlights:
Canon EF Mount Lens
Aperture Range: f/2.8 to f/22
16mm (35mm Equivalent)
Designed for APS-C-Sized Sensors
One ED and Two Aspherical Elements
Nano Crystal Anti-Reflection Coating
Manual Focus Design
Samyang also released a few other lenses:
8mm f/2.8 UMC FISH-EYE II for EF-M mount
–
pre-order at B&H Photo for $349
8mm T3.1 Cine UMC Fish-Eye II for EF-M mount
–
pre-order at B&H Photo for $399
12mm f/2.0 NCS CS Lens for Canon EF-M Mount
–
pre-order at B&H Photo for $399