I've been looking for a viewfinder for my Nikon D7000 DSLR Camera (
body only
and
body and kit lens
- see all
Digital SLRs
) that sticks out further, something similar to what is available for the Nikon D700. I wear glasses and my face tends to touch the LCD screen leaving smudges. So I've been googling and there hasn't been much information.
Nikon has magnifying viewfinders for the D7000 such as the
Nikon DG-2 2x Eyepiece Magnifier
and
Nikon DK-21M Magnifying Eyepiece
(see all
Camera Power Adapters
) but it's either too big or too small. There is also the Tenpa 1.22x or 1.33x magnification but would you really trust ordering something overseas that costs approximately $50 and end up not liking it? I've also read that magnifiers are usually used for those who use manual focus lenses. So I thought I would make mine a little different and unique from the rest of the Nikon D7000's and be able to use OEM Nikon products. By purchasing from reputable stores such as
Amazon
,
B&H Photo
and
Adorama
, if I didn't like it or decided not to go through with the mod, I return them for a refund. If I had already started to mod the DK-22, I wouldn't be able to return and just each the cost of it.
I'm going to be showing 2 options using all original OEM Nikon products. Both options work on Nikon DSLR's such as D70, D70s, D300, D300s, D90 and on some Canon DSLR's such as Canon EOS 5D, Pentax, Olympus and Sony (you may need to do some additional research).
Compatible With Nikon:
Nikon D40 / D40X · Nikon D50 · Nikon D60 · Nikon D70 / D70s · Nikon D80 · Nikon D90 · Nikon D100 · Nikon D200 · Nikon D300 / D300s · Nikon D600 · Nikon D3000 · Nikon D3100 · Nikon D3200 · Nikon D5000 · Nikon D5100 · Nikon D7000 · Nikon F80 / N80 · Nikon U2 / F75 / N75 · Nikon F70 / F70D / N70 / N70D · Nikon U / F65 / N65 · Nikon F60 / F60D / N60 / N60D · Nikon Us / F55 / N55 · Nikon F50 / F50D / N50 / N50D · Nikon F601 / N6006 · Nikon F501 / N2020 · Nikon F401 / N4004 · Nikon F401X / N5005 · Nikon F401S / N4004S · Nikon F301 / N2000 · Nikon Pronea 600i · Nikon Pronea S · Nikon EM · Nikon FE10 · Nikon FG · Nikon FG-2 · Nikon FM10
Compatible with Canon:
Canon EOS 450D / Rebel Digital XSi / Kiss Digital X2 · Canon EOS 400D / Rebel Digital XTi / Kiss Digital X · Canon EOS 350D / Rebel Digital XT / Kiss Digital N · Canon EOS 500D / Rebel Digital T1i / Kiss Digital X3 · Canon EOS 550D / Rebel Digital T2i / Kiss Digital X4 · Canon EOS 1100D / Rebel Digital T3 / Kiss Digital X50 · Canon EOS 600D / Rebel Digital T3i / Kiss Digital X5 · Canon EOS 650D / Rebel Digital T4i / Kiss Digital X6i · Canon EOS 1000D / Rebel Digital XS / Kiss Digital F · Canon EOS 20D / 30D / 40D / 50D / 60D · Canon EOS 5D
[update headline="UPDATE"]Timeline of updates.[/update]
[10/1/12] DK-22 compatibility with Nikon D600; added Canon EP-EX15/EX15II to list
[7/15/13] Found a compatible eyepiece extender for Canon EOS 7D, 5D Mark III, 1DC, 1D Mark III, 1D Mark IV, 1DX and 1Ds Mark III — Full review
[1/14/14] Added Hoodman HoodEye eyecup for Canon EOS 7D, 5D Mark III and other compatible cameras.
[4/21/15] Added Think Tank Photo Hydrophobia Eyepiece for Canon 5D MarkIII, 1D Mark III, 1D Mark IV, 1DX, 7D, 7D Mark II, Olympus E3 and E30.
[4/11/16] Added Canon MG-Eb and MG-Ef 1.2x magnifying viewfinder.
---
EX-EP15 (left); EX-EP15II (right)
If you own a Canon camera and don't want to do the mods discussed in this article, or you're a loyal Canon user and just want to know what is Canon's solution, you can purchase the Eyepiece Extender EP-EX15 or EP-EX15II. These are direct eyepiece replacements. The EX15's extend the eyepiece 5/8" (15mm) from the camera body and reduces viewfinder magnification by 30%.
The EP-EX15/EX15II
do not
fit the EOS 7D, 5D Mark III, 1D C, 1D Mark III, 1D Mark IV, 1D X, 1Ds Mark III (see below for compatible eyepiece).
You can purchase the EP-EX15 or EP-EX15II from the following sites:
EP-EX15:
(MSRP $16.95) = Compatible with the Canon Digital Rebel, Digital Rebel XT, Digital Rebel XTi, 1D, 1D Mark II, 1D Mark II N, 1Ds, 1Ds Mark II, 1V, 20D, 20Da, 30D, 40D, 5D, 6D, D30, D60, EOS 3, IX LITE, Rebel 2000, Rebel G, Rebel G II, Rebel K2, Rebel T2, Rebel TI
EP-EX15II:
(MSRP $15.95) = Compatible with the Canon EOS 40D, 50D, 60D, 5D Mark II, Rebel XS, XSi, T1i, T2i, T3, T3i, and T4i
MG-Eb:
(MSRP $45.00) = Compatible with the Canon EOS 6D, 70D, 60Da, 60D, 50D, 40D, 30D, 20D, 10D, D60, D30, RT, 850, 750, 700, 650, 630, 620, 10S, ELAN; Canon EOS Rebel T2, Ti, 2000, K2, GII, G, XSN, XS, X
MG-Ef:
(MSRP $45.00) = Compatible with the Canon EOS Rebel T6i, T6s, T5i, T5, T4i, T3i, T3, T2i, T1i, SL1, XSi, XS, XTi, XT, T2, Ti, and K2 Cameras
The following is compatible with EOS 7D, 5D Mark III (pictured), 1D C, 1D Mark III, 1D Mark IV, 1D X and 1Ds Mark III:
(MSRP $19.99) -
FULL REVIEW
---
For all you Nikon owners, these are the two options you can choose from.
OPTION #1
offers no magnification but gives you an eyecup and requires no modification.
OPTION #2
gives you magnification that utilizes the DK-17M and eyecup but requires some modification to the DK-22 adapter.
Continue reading on how to perform these mods.
OPTION #1
Time to Complete :
5-10 minutes
Skill Required:
Beginner
Approximate Cost:
$37
If you're just looking to use a round eyecup with no magnification, you'll need the following:
So I went and placed my order for a DK-22 which replaces the original eyepiece (DK-21), DK-3 eyecup and Nikon Finder Eyepiece for FM, FE & FA Series Cameras. Installation is as easy as possible. Place the eyepiece into the DK-3 eyecup. Lineup the eyepiece with the DK-22 eyepiece adapter and begin to turn it as if you were turning a screw until it is tightened. You'll have to hold the DK-3 eyecup from moving since the back of the eyecup has a slight angle to it. This should face towards the bottom due to the LCD screen being in the way. The most expensive piece of this mod is the eyepiece. I highly suggest trying to get this on eBay. There are also 3rd party pieces but its up to you on which route you want to take.
Here is what it looks like on a D7000:
Full view: Nikon D7000, MB-D11 with DK-22, Nikon Eyepiece Finder and DK-3 attached
3/4 view
Side view
Close-up view
Here are some images with DK-3 only: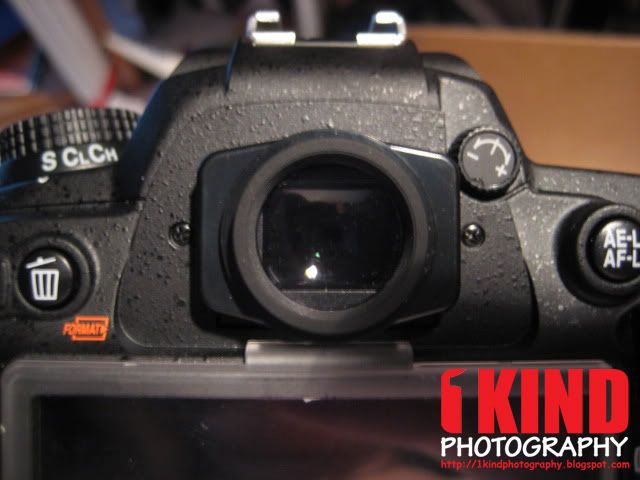 Front view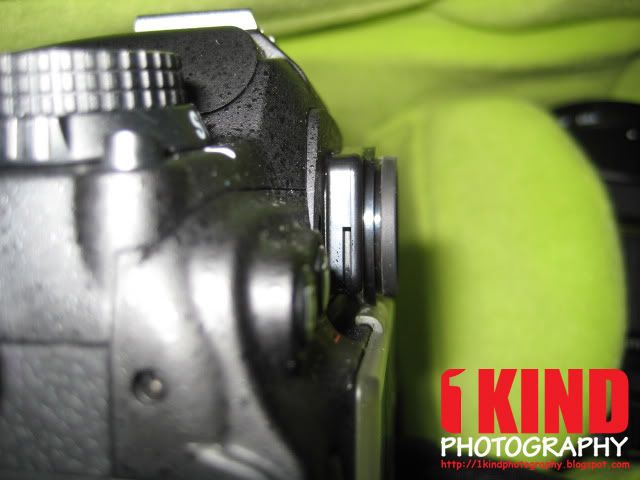 Side view
Due to the size of the eyecup and how far the entire thing sticks out from the camera, I'm unable to fold the rubber eyecup back but my cheek and nose isn't all up on the LCD screen.
If you already own or plan on looking at getting the DK-17M for magnification, continue reading to Option #2…
---
OPTION #2
Total Install Time:
30-50 minutes
Skill Required:
Intermediate
Approximate Cost:
$50
If you're looking for an eyecup with magnification, you'll need the following:
DK-17M has a threaded base that screws into the more expensive cameras. It's threading is 22mm. The DK-22 has a threading hole which is too small and has a 19mm threading. So it will not be a direct fit. What you'll need to do is shave some of DK-22's innards down so that it can fit the DK-17M.
I received my DK-17M in the mail that I bought used off of a member on a camera forum. I didn't want to spend the retail price of $38 incase I didn't like it or messed up the mod and gave up. So the purchase was very cheap and affordable. I started working on hollowing out the DK-22 adapter. I do not own a dremel and having heard reports of people cracking or melting the plastic, I didn't want to go that route even if I owned a dremel and the adapter was only $4.50. But you could patch it up with epoxy but it wouldn't look clean. Instead, I used a half-round filer. The filer was rounded on one half and flat on the other. It looks something like this:
As I started to file down the adapter, I tried to get it as evenly filed as possible. I know the bottom of the DK-22 once filed down can become fragile since there is not enough plastic to make it sturdy. I filed down more of the sides and the top of the DK-22. But as I filed it down, the top started to get thinner and thinner so I had no choice but to make it even all around. To file down the plastic to the size I wanted, it took me about 30-45 mins. I used an exacto knife (razor blade would work too) to cut off off excess plastic and sand paper to smooth out some rough edges. Here is the outcome:
Front view: unmodded (left); modded (right)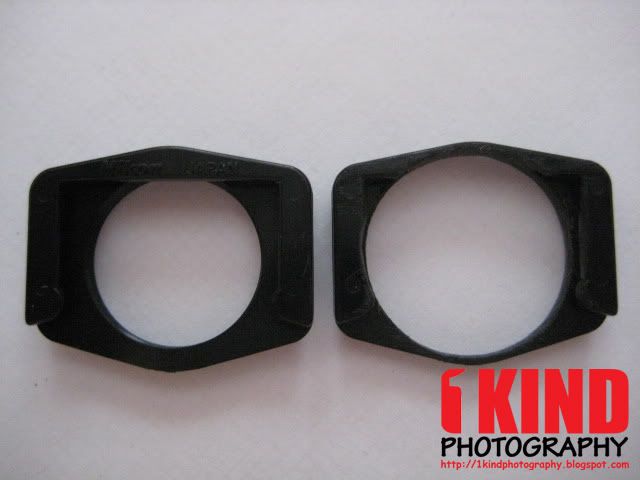 Rear view: unmodded (left); modded (right)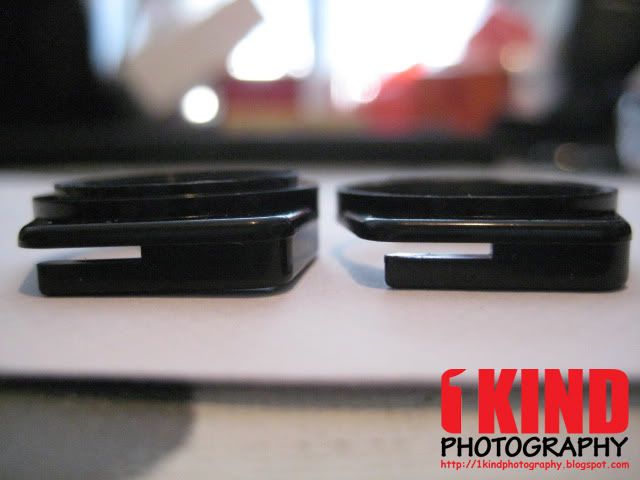 Side view: unmodded (left); modded (right)
Every so often, I would test fit the DK-17M to see if it would fit. I didn't want too much where the DK-17M would fit easily. Fitting easily would mean, lesser and weaker plastic. Once I got the opening to near the right size, I would try to twist the DK-17M. It took a little patience trying to get the DK-17M twisted correctly considering there was no more threading on the DK-22. It also required a little force to get it in. Here is how it turned…
Modded DK-22, DK-17M and DK-19 put together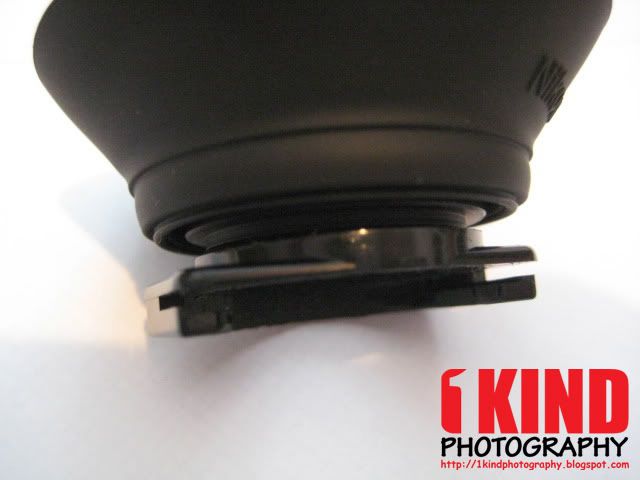 Bottom view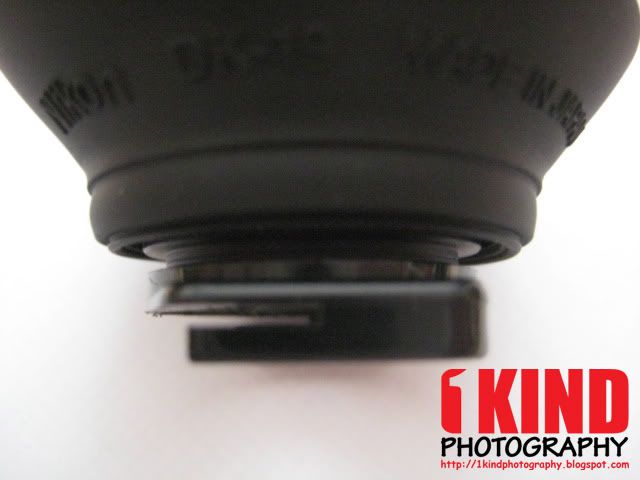 Side view
Top view
Full view: Nikon D7000, MB-D11 with modded DK-22, DK-17M and DK-19 attached
Close-up view
Side view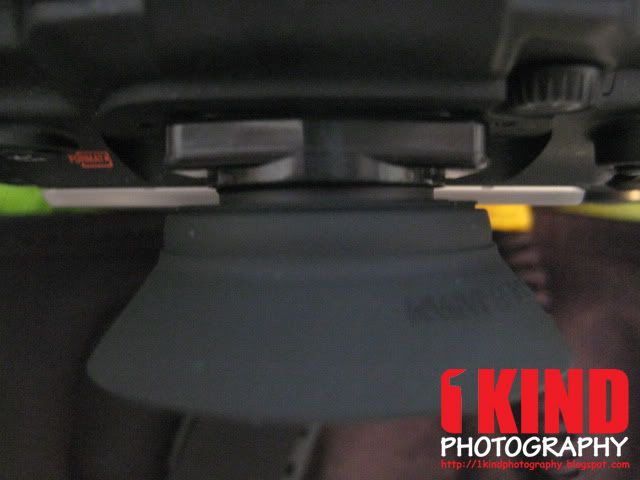 Top view
Full view with eyecup folded back: Nikon D7000, MB-D11 with modded DK-22, DK-17M and DK-19 attached
Close-up view of eyecup folded back
As you can see, with the DK-19, I'm able to pull the rubber eyecup back. Its not all the way back like it would on a D3, D3s, D2, D1, D1h, D700, F6, F5, F4 & F3HP Cameras, but it holds and stays pushed back. The DK-19, came with a ring but its not needed. I think it's only needed if you're not using the rubber cover on that goes over the DK-17M.
Once installed, I did have to adjust the diopter next to the viewfinder. Also, I noticed that corners are a little cut off and possibly the bottom meters depending on your viewing angle. A slight movement and it will be visible.
NOTE: IF FOR WHATEVER REASON YOU NEED TO REMOVE THE EYEPIECE, USE TWO HANDS AND PUSH FROM THE SIDE OF THE DK-22 ADAPTER. DO NOT PULL FROM THE EYEPIECE/EYECUP.